Case: VAK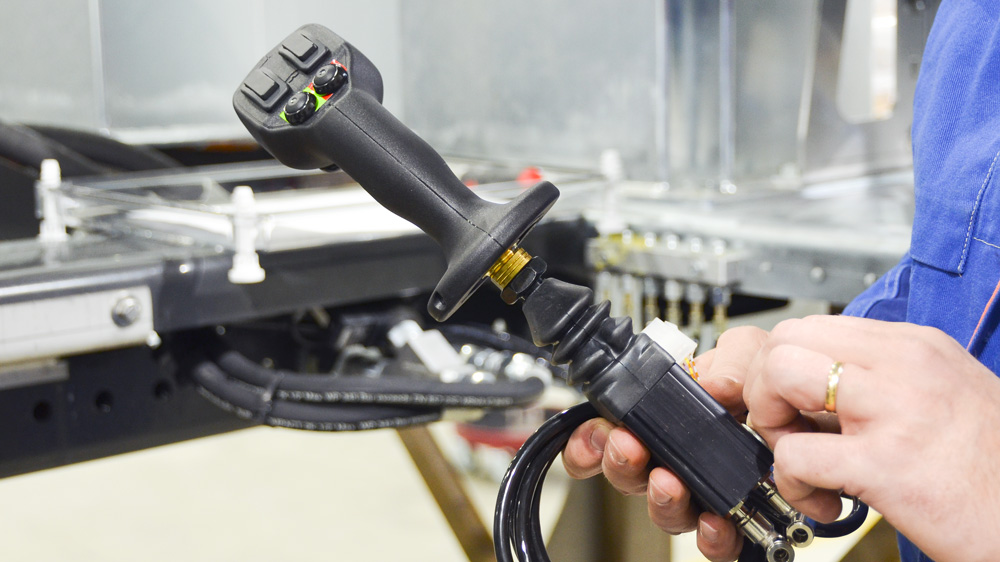 Heavy-duty transportation machinery must withstand the constantly changing weather conditions around the year. Designed for professional use, VAK trailers are already a concept on highways in Finland and Sweden. The completely reconstructed VAK LK26-hooklift utilizes a pneumatic control unit from Pimatic.
As a part of the weatherproof VAK transportation technology, an innovative hooklift control unit from Pimatic ensures a simple construction for smooth and dependable hydraulic connections. The system includes a joystick and a control unit in the vehicle cabin for changing the electric control into pneumatic.
-The Pimatic solution enables using a pneumatic air-controlled selector valve in our hooklifts instead of electric control, Timo Vuorila Technology Expert from VAK, comments on. The pneumatic solution is more reliable for the end user, because it is easy to maintain and service on-site while all the units are similarly constructed. This creates a pneumatic opportunity for us through providing easy-to-use products for our customers, he adds to.
Long and strong experience in applied pneumatics
-The unit is supplied to us as a ready-to-install component which is the same for each vehicle, thus saving us time and cost. Pimatic has a long and strong experience in the manufacture of other similar products and they can guarantee both the quality and the on time delivery, Vuorila explains. 
-The hooklift control unit is an excellent system and it operates well. In addition to the product, I appreciate the partnership, and especially that we can communicate with the same contact person. It makes things easy and fluent. 
VAK has been the market leader for temperature-controlled trailers for several years in Finland. In addition to trailers, the company designs and manufactures transport bodies, demountable bodies, V-Sliders that link two semi-trailers, dollies, demountables and hooklifts. The company employs approximately 300 people and has net sales of 60 MEUR/year.