Case: Valmet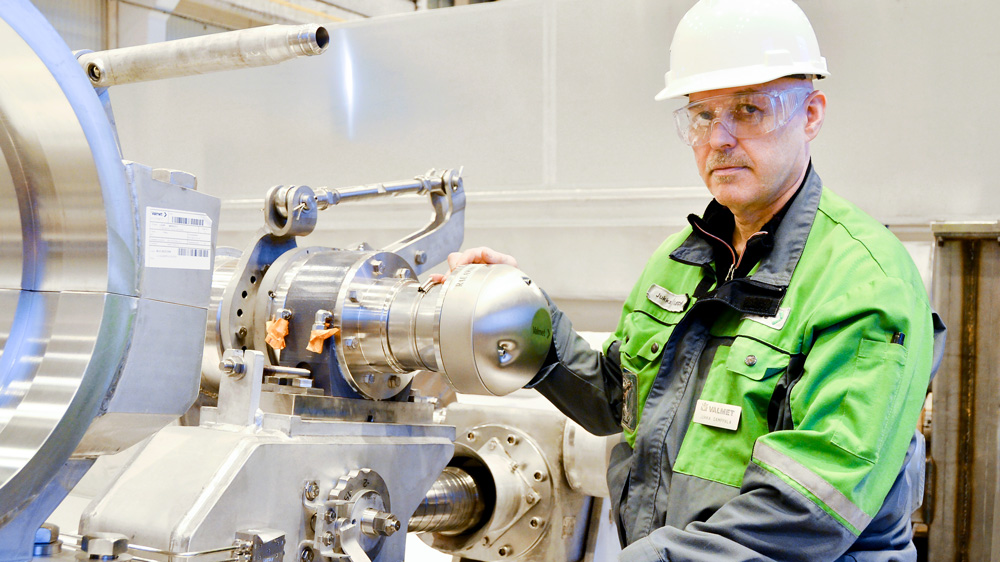 Valmet paper machines aim to provide a high quality and performance for the pulp, paper, board and tissue mills around the world. As part of this, the smooth web runnability is ensured through a range of efficient fabric guide solutions – one among them is the pneumatic guide cylinder from Pimatic.
In the pulp, paper and board machinery, providing the correct fabric position is a crucial factor for the smooth web runnability. Keeping the web stable is essential for improving the production line runnability and maintaining the end product quality. Among the fabric guide technologies used by Valmet, the Pimatic pneumatic guide cylinder enables a cost-effective and reliable fabric positioning for the pulp, paper and board machinery.
The low friction air cylinder moves the guide roll accurately, thus preventing the fabric from colliding with the machine frame. The air cylinder actuated guide operation can be used both in the wet end and dry end applications.
-This stand-alone solution provides us an opportunity to offer customers an alternative that does not need separate automation, is easy to maintain and reduces cost, says Jukka Samppala, Product Manager, Stretchers and Guides from Valmet.
-Another device utilizing Pimatic's low friction cylinder is the stretcher also used for fabric tensioning in our pulp, paper and board machinery, he continues.
In-depth knowledge enables application-specific solutions
Valmet is the leading global developer and supplier of process technologies, automation and services for the pulp, paper and energy industries.
-The fabric guides used in the pulp, paper and board machinery must be able to stand challenging process conditions – still providing an optimal fabric guidance, Samppala explains.
-Pimatic has been able to develop an accurate low-friction-cylinder that can withstand heat, humidity and the chemicals used in these processes, he notes. They know the circumstances in the paper machine process environment and have the expertise to engineer products that meet these demands.
-The pneumatic guide with an air cylinder is a result of a systematic and long-term product development, and it has been used in the wet and dry end applications of our machinery for nearly 15 years by now. For us, Pimatic is a partner who is both dependable and easy-to-work with and the one who always finds the way to solve a problem, Samppala concludes.